Wednesday, 12th July 2017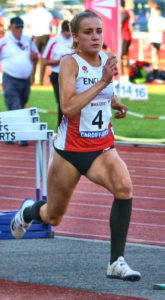 Having discovered that the Triple Jump is an event that Blue Vest Georgia Lever appears to have taken to like a duck to water, it was fantastic news that she was invited to represent England North in Cardiff today. The evening event was a competition between five teams: England North, England South, England Midlands, Wales, and a Welsh National schools team.
The competitors in each event were chosen from the retrospective area champions, so provided a true reflection of some of the best U20 athletes in the country. Bearing in mind Georgia has only just started learning this discipline, it was a great privilege to take part in such a prestigious event. On collecting her England kit, she went about the process of preparing for her event which began at 19.15 in front of the main grandstand and, after being introduced to the crowd, the competition began.
It was a close affair throughout the rounds but all the athletes were down on their best performances, possibly due to the English Schools' Championships at Bedford the weekend before, or in the case of Georgia, perhaps the six-hour car journey hadn't helped. Georgia's best jump came out at 11.27m, which earned her third place behind the ESAA Champion and the Welsh Champion, so a result she can be happy with.
Though primarily a jumper, Lever is also quite used to filling the 100m sprint events at YDL and Senior level for the Harriers as well as being an integral member of the 4 x 100m relay squad, so when the chance to compete in the England North 4 x 100m team arose, she jumped at the opportunity. Georgia took the first leg and didn't disappoint with a faultless handover. The rest of the team, all sub-12 second runners, went on to smash the opposition by more than a second – it was a fitting end to a long day.
Though this was Georgia's first event in an England Vest, it surely it won't be her last.