Sunday, 25th September 2016
Sun and showers at Manchester's SportCity complex were the backdrop for the Northern Athletics 6/4-Stage Road Relays and associated 3-Stage for junior age-groups today.
The senior men fielded four teams for the first time in many a blue moon and despite some late withdrawals, the A team qualified for the nationals at Birmingham's Sutton Park in a fortnight. Their cumulative 1:48:30 was 18th of the 116 starting teams, with Tony Valentine marking his return with the quickest of all Blue Vests in 17:23.
Ten minutes further back, the B team finished via Dom Gavin in a fantastic 56th place, with Simon Walker having the quickest leg of ~5.6km two-lap course in 19:26.
Run of the day went to Michael Ruston, who led off for the C team but returned a remarkable 19:00. Stewart Brierley anchored the C team, finishing ten minutes behind the B, with veteran Paul Turner contributing on his 34th consecutive appearance in the event! New coach Aidy Costello led off for the incomplete D team. Liverpool Harriers took gold with 1:40:04.
For the women, Nicki Cartridge blasted off around the ~5.1km course, returning in 19:00. Becca Kay took over, before juniors Liv Kearney and Mercedes Mercer took the team to 34th of 74 starters and an invite to the nationals too. Leeds City won in 1:09:31.
All junior squads performed well,
finishing around the halfway mark of the top teams in the North of England, with Louie Johnson (U13), Adam Akik (U15) and the Erzan-Essien siblings, Madeline (U15) and Maya (U17), having the quickest legs of their respective teams.
Team Manager Dave Shaw cheered the teams on throughout the day and was suitably pleased with the end product. "Another Top 20…bring on Brum!" he exclaimed, where it is hoped international star Tom Lancashire will be available.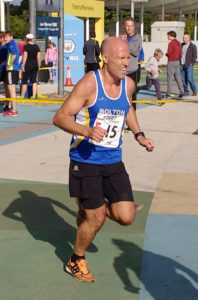 18/116 BUH&AC Men 'A' – 1:48:30
Karl Darcy (38) 17:43
Anthony Valentine (18) 17:23
Martin Reid (16) 17:48
Tommy Harrison (17) 17:55
John Knowles (16) 18:05
Frazer Jardine (18) 19:36
56/116 BUH&AC Men 'B' 1:58:16
Chris Povey (73) 19:35
Simon Walker (65) 19:26
Andrew Crickmore (66) 19:28
Declan Toomey (56) 19:33
Tom Lucas (57) 20:24
Dominic Gavin (57) 19:50
84/116 BUH&AC Men 'C' 2:09:08
Michael Ruston (60) 19:00
Chris Pickford (80) 21:26
Paul Trainor (85) 21:38
Paul Turner (92) 22:44
Peter Kearney (87) 21:32
Stewart Brierley (87) 22:48
Incomplete BUH&AC Men 'D'
Adrian Costello (109) 23:25
Steve Houghton (112) 27:49
Results
34/74 BUH&AC Women 1:25:29
Nicola Cartridge (27) 19:04
Rebecca Kay (35) 20:54
Olivia Kearney (35) 21:53
Mercedes Mercer (38) 23:38
23/38 BUH&AC MU13 36:48
Ben Pickford (24) 10:54
Louie Johnson (14) 10:33
Louis Greenhalgh (24) 15:21
24/40 BUH&AC FU15 35:40

Molly Philbin (31) 11:54
Madeline Erzan-Essien (29) 11:44
Francesca Fordham (24) 12:02
21/37 BUH&AC MU15 31:34
Cameron Donnelly (28) 10:36
Adam Akik (25) 10:18
Jack Willets (21) 10:40
19/30 BUH&AC FU17 43:50
Leah Rushworth (30) 15:15
Maya Erzan-Essien (23) 12:32
Ellie Forrest (19) 16:03