Sunday, 17th July 2016
Several Blue Vests were among the 2094 field that undertook ultimate test of athletic endurance today – the Ironman UK competition. Held on our doorstep in Bolton again – a great exhibition of the town's best side, the feat involves swimming 2.4M in Pennington Flash's cold water, biking 112M over two laps in gusty headwinds, and running a full 26.2M marathon in warm conditions along Chorley New Road.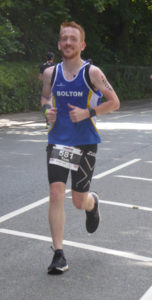 Tom Lucas was the first to cross the finishing line, following an outstanding bike ride in which he overtook clubmate Scott Crompton, though he began to tire in the second half of the marathon and clearly enjoyed the final jog in to Bolton town centre for 389th overall. Crompton, for his part, was lightning in both transitions (13 minutes in total), excelled in the swim with the quickest of the Harriers' times and began to claw back time to Lucas before also slowing through the final run checkpoints. Matt Pemrick's fish impression was complete as he also went under 80 minutes in the water and matched Crompton on the bike, though the sun was not welcomed on the jog.
Kam Patel, who only learned to swim last year, knew the toughest element was the first. He survived the time limit cut-off by just 5 minutes and did not look back – 7 hours on the bike and the quickest of all Blue Vests in the marathon (just over four hours), showed excellent pacing. Just 10 minutes later, Chris Pickford finished with an amazing 100m dash in 15 seconds! A steady swim and run sandwiched drama on the bike ride though, where bad luck saw a snapped chain put pay to hopes of a quicker time. Despite the disruption to his rhythm and an understandable panic at the most unplanned of events, he recovered composure well to go sub 4:30 on the run. Unbelievably, the same fate had befallen Crompton on a tapering ride on Wednesday – to have two within 5 days is almost unheard of.
Congratulations to the quintet, who all completed in the top half of the field:
Tom Lucas – 12:12:40
(Swim: 1:26:03, Swim: 6:05:39, Run: 4:22:15)
Scott Crompton – 12:26:52
(Swim: 1:15:55, Bike: 6:39:07, Run: 4:18:16)
Matt Pemrick – 13:11:11
(Swim: 1:19:02, Bike: 6:38:52, Run: 4:52:59)
Kamlesh Patel – 13:47:54
(Swim: 2:14:23, Bike: 7:08:45, Run: 4:03:05)
Christian Pickford – 13:57:43
(Swim: 1:40:16, Bike: 7:30:49, Run: 4:24:20)